Engagement Hub
Many Systems, One User Experience
You've invested in tons of tools and technology for students — but do they all work together? The truth is, there's a massive void at the center of the higher ed digital ecosystem because there's no centralized user experience unifying everything. Let's fill that void.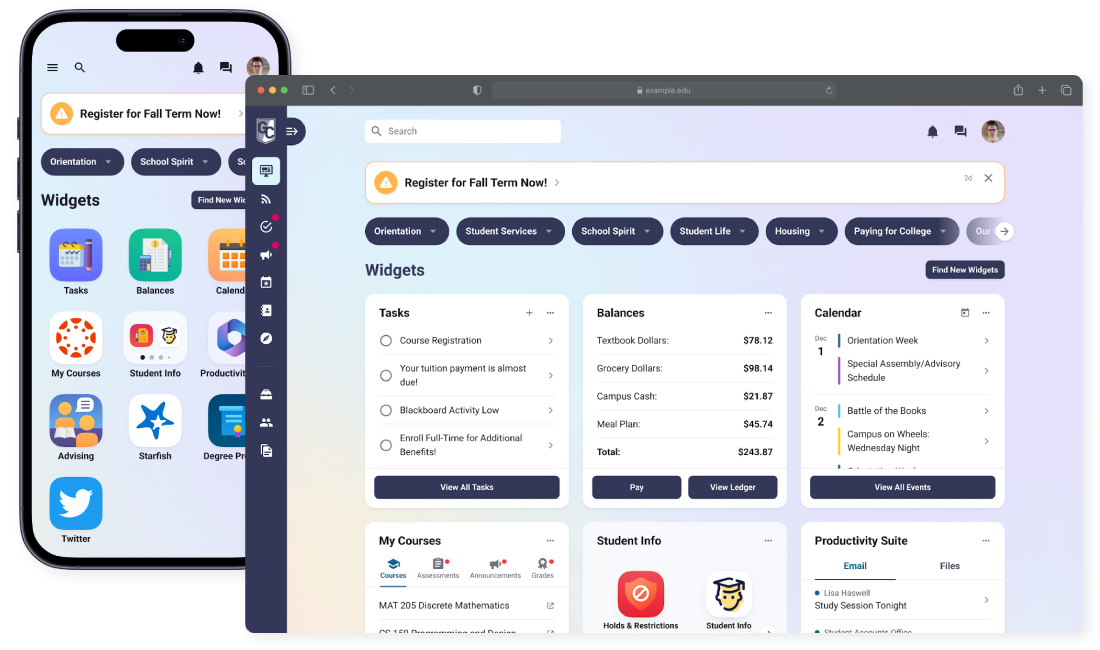 This is a global block, so any changes you make here will update all instances across the site!
Smash through self-imposed silos. Pathify supports the entire student journey with a single, modern interface. Whether you're attracting prospective students, keeping current students on track or giving your entire community an accessible place to interact and engage, Pathify drives connection.
Attract prospective students and guide their exploration, application and enrollment journey with a modern digital experience that fits their lifestyle.
Ditch the information treasure hunt and put everything in one spot. Tools, pages, resources, custom widgets, even a digital student ID. This isn't your parents' portal.
Connectivity, culture and community matter. Strengthen institutional culture and empower students to connect and build relationships — anytime, anywhere, from any device.
The right tools, centralized tasks, reminders they actually see — and little extra nudges to seek help — give students the support they need to succeed.
Stop leaving alumni relations to phone calls and emails — no one engages that way anymore. Event calendars, interactive communities and direct messaging in a single app keep them invested.
Eliminating the Great Fragmentation
Over the past few years, schools massively invested in technology to facilitate student life — both on campus and off. The sheer number of largely disconnected user interfaces now represents the single biggest technology challenge for students. Pathify's Engagement Hub ties together all these investments, providing a consistent, hyper-personalized experience — on any device.
Ending the Treasure Hunt
The traditional student portal/link farm provides the same value as a complex treasure map where X marks the spot. Add a disconnected mobile app into the equation and it's no surprise why students consistently say they have no idea what content and resources their school invests in. Pathify's Engagement Hub eliminates the dense digital jungle, enabling schools to proactively push the right content to the right people and drive student success.
Full Cycle Engagement
One of the biggest challenges schools face today is consistently engaging with their community across the entire lifecycle — from prospective students, through the academic journey and beyond graduation. With modules for Prospects, the Student Portal, institutional Communities, Student Success and Alumni, Pathify provides the single Engagement Hub managing all communication and connection throughout the entire student lifecycle.
A Single Pane of Glass
We live in a world of countless systems, applications and solutions. Wouldn't it be great if they were all connected? With Pathify, they will.
Mobile + Desktop Parity
Running a disconnected web portal and mobile app creates confusion. Modern software should work just as well on mobile as it does on desktop…it's really not too much to ask. All features and functionality of the Pathify Engagement Hub perform via web or native mobile app (iOS and Android) so all students access it anywhere.
Broad Accessibility
When we say a great experience for every user, we mean everyone. All Pathify solutions meet WCAG 2.1 AA standards, serving your entire population best in class accessibility.
Hyper-Granular Personalization
Students are consumers and consumers today expect to be treated as individuals. Pathify enables schools to get hyper-granular, ensuring each user consistently enjoys a tailored experience custom fit to their needs and interests.
Report on Success
Giving students a single pane of glass connecting all things creates an incredible opportunity to gather critical behavioral and experiential data related to student success. Leverage Pathify reporting and data services to unlock a whole new world of insights about what makes students tick.
Challenge the Status Quo