Academic Affairs
Can the portal drive student success?
The sheer amount of information students must process each day is mind-boggling and often overwhelming. Wouldn't it be great to summarize key information from the SIS, LMS and other systems to help students focus on what matters most? Pathify elevates key events, tasks, resources and messages to students in a mobile friendly dashboard, allowing you to declutter the student experience while amplifying reach.
Engagement Hub
Resources they can find = resources they'll use
You invest in a lot of resources many students don't know exist. That's because with legacy link farms and siloed systems, it's nearly impossible to find what you need when you need it (especially if you don't know exactly what you're looking for). Higher ed ecosystems are a sea of information…and those seas are often hard to navigate.
Make support easy to find by putting the resources people need the most right in front of them on a highly personalized dashboard.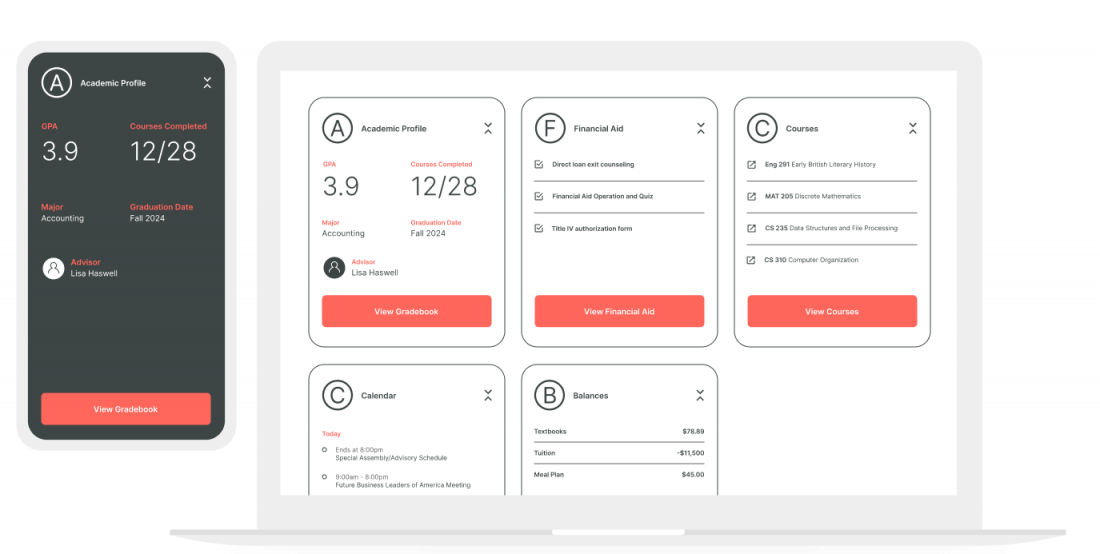 Persona-Based Roles
Every person at your institution is unique, so why give them all the exact same info? Personalizing what each person sees based on their roles creates a better, more effective experience.
Integrations
Students get important information from a lot of different systems — SIS, LMS, email, etc. Integrating those systems with a single, centralized presentation layer makes it easier to surface useful information every day.
Insights
The sooner you know a student is struggling, the sooner you can help. Flag keywords to find students who need help, monitor engagement metrics to see who's checked out, and more.
Native Mobile App
Students are constantly on their phones — reach them where they already live. A native mobile app increases user engagement and enables you to send critical push notifications.
Support From Every Angle
Set up for success
Resources where students need them
Pull valuable information from your SIS, LMS and other systems onto each student's dashboard. Make it easy for students to get the info and resources they need in one place (that evolves with them).
Online connections for academic support
Empower students to connect, collaborate, chat, and share resources online in groups that match their major, classes, and more.
Top-of-mind to-dos, deadlines & resources
Sometimes students slip. Help them stay on track by surfacing important deadlines, sending reminder notifications and sharing additional resources when it's needed.
Customer Stories
Hear from your peers
Tired of submitting help desk tickets to get events posted, webpages updated or notifications sent out? Frustrated by logging into multiple systems to post a single policy? See how Pathify customers have broken the cycle and taken control of getting the right information in the right hands.
Challenge the Status Quo