Academic Affairs
Improve student success
The sheer amount of information students must process each day is mind-boggling and often overwhelming. Wouldn't it be great to summarize key information from the SIS, LMS and other systems to help students focus on what matters most? Pathify elevates key events, tasks, resources and messaging to students in a mobile friendly dashboard, allowing you to declutter the student experience while amplifying reach.
Portal
Resources they can find = resources they'll use
You invest in a lot of resources that many students don't even know about. That's because traditional portals make it nearly impossible to find what you need when you need it. It's a sea of information that's hard to navigate.
Make information easier to find by putting the details and resources each person needs the most right in front of them with a personalized portal experience.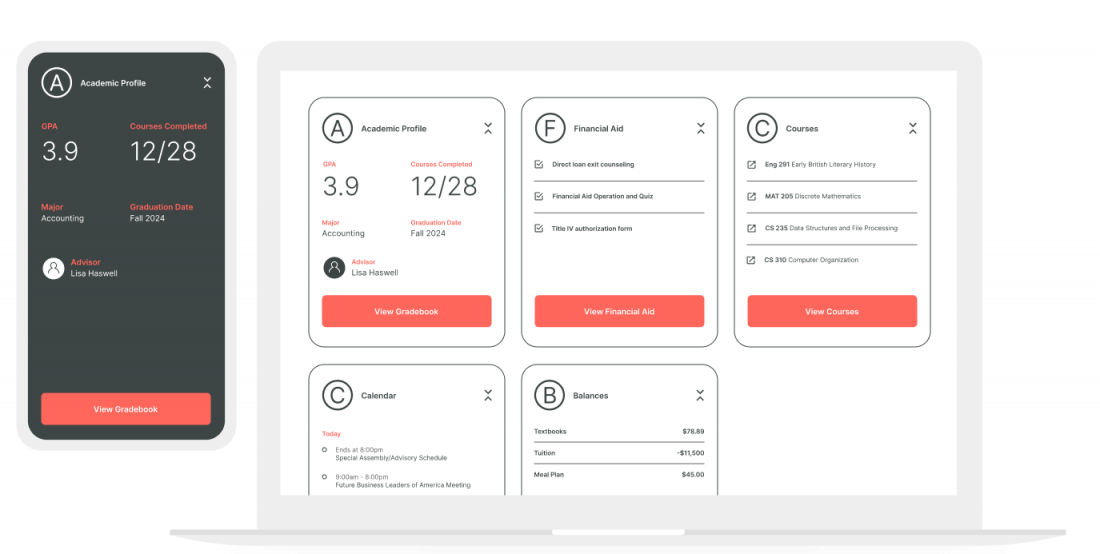 Persona-Based Roles
Every person at your institution is unique, so why give them all the exact same info? Personalizing what each person sees based on their roles creates a better, more effective experience.
Integrations
Students get important information from a lot of different systems — SIS, LMS, email, etc. Integrating those systems into a single, streamlined view makes it easier to surface important info with a single sign-on.
Insights
The sooner you know a student is struggling, the sooner you can help. Flag keywords to find students who need help, monitor engagement metrics to see who's tapped out and more. Having access to data gives you valuable insights.
Native Mobile App
Students are constantly on their phones, so your portal (and the important information it houses) should be too. The native mobile app increases user engagement and enables you to send critical push notifications.
More Features
Your communication station
Pages
With overwhelmed help desks and restricted access, it can take weeks to fix a simple typo. Pages allow you to keep your information fresh with minimal effort.
Groups
Foster community by automatically adding users into groups based on their year, major, school, campus, etc. In groups, users can connect and collaborate to create a more enriching educational experience.
Announcements
Announcements allow you to deliver messages to a tailored audience via a variety of channels in less than five clicks.
Customer Stories
Hear from your peers
Tired of submitting help desk tickets to get events posted, webpages updated or notifications sent out? Frustrated by logging into multiple systems to post a single policy? See how Pathify customers have broken the cycle and taken control of getting the right information into the right hands.
Find Your Pathify
Start your new portal journey