Meet Pathify
Enhance the student experience
A student portal can't be one-size-fits-all. When it is, it's ineffective and students stop using it.
Your portal should empower students to take control of their personal journey with the exact information and resources they need. Add a modern UI, web/mobile parity and integrations with other higher ed apps and you have a portal that exceeds today's student expectations.
Welcome to Pathify.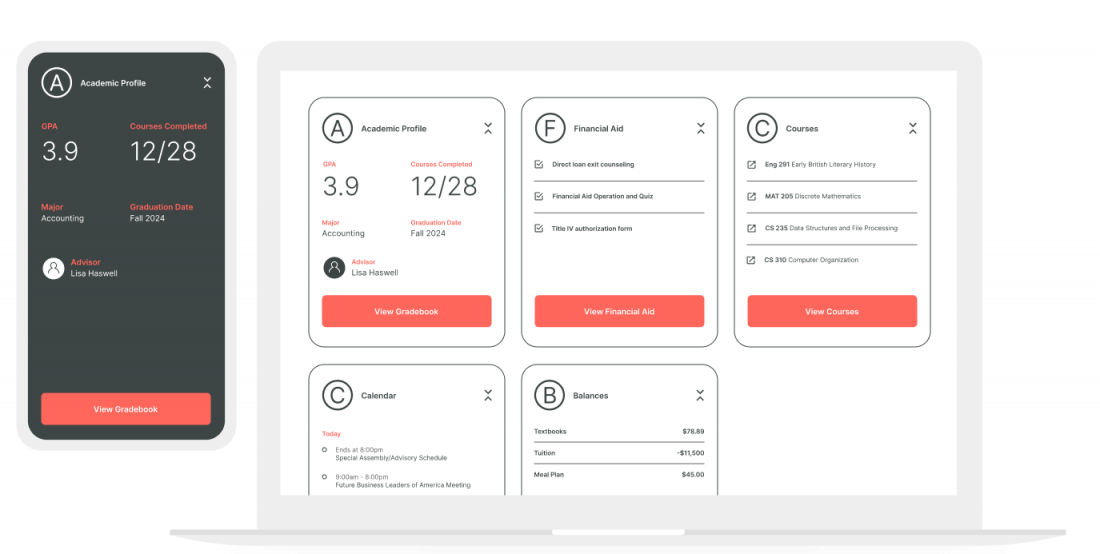 Core Portal
Your gateway to a personalized portal
How many different applications, websites and portals do your students, staff and faculty use each day? Wouldn't it be great if they could get all that vital information in one location? (Just imagine what that would do for login rates and engagement.)
Pathify pulls everything students, faculty and staff need into a single platform accessible via web or native mobile app.
Dashboard & Activity Views
Goodbye link farm. Put the most important information right in front of each user, in whichever format they prefer.
Standard Widgets
Consolidating the most important information into a single spot takes powerful integrations. Pathify offers six standard widgets to integrate with your SIS, LMS, productivity suite and more.
Role-Based Tools
Students, staff, faculty and administrators each use their own unique set of tools. Personalize which tools appear for each role inside the portal for a streamlined experience.
Announcements
Make sure the most important announcements and alerts (both personalized and campus-wide) get in front of students with in-portal alerts, emails, SMS and mobile push notifications.
Notifications
No more missed information. Notifications throughout the app and via email, SMS or mobile push notifications let users know when they have something that needs attention.
Search
An in-portal search function that actually works. Need we say more?
Pages
Have more information to share? Easily build pages in Pathify or embed existing webpages into the portal.
Groups
A digital home for campus groups
Give on-campus groups a digital home that you have insight into and control over (unlike outside social media networks). Whether your students are all in one place or remote learners, Groups allow users with similar interests to virtually gather and interact.
Tasks
Keep tasks top of mind
Between classes, groups, administrative tasks, special projects and everything else happening on campus, keeping it all straight takes effort. Pathify reduces this effort, helping students take control of their experience. Surface important to-do lists and reminders from all your student and administrative systems in a single forum.
Integrations
Integrate existing systems into one portal
From student information systems and learning management systems to productivity suites and emergency alert systems, the sheer amount of technology can be overwhelming. You want a student portal that integrates with any key system, not a walled garden that insists you live entirely in their ecosystem.
More Great Things
Built for your real-world needs
ACCESSIBILITY:
Meet Everyone's Needs
When we say every user gets the same great experience, we mean everyone. All Pathify solutions meet WCAG 2.1 AA accessibility standards, allowing you to serve your entire university population.
CLOUD NATIVE:
No more discs
Software is shifting to the cloud and student portas should do the same. Get new features, system updates, bug fixes, patches and more quickly and easily, without waiting for a disc in the mail. 
SSO:
One login, total access
With so many systems to access and logins to remember, students often stop trying. Make it easy for them to access everything they need via your single sign on solution.
CUSTOMER SUPPORT:
Real people, real support
The greatest software in the world still needs support. At Pathify, we're just as dedicated to supporting you as we are to creating a great product. In fact, we view stellar support as part of our amazing product.
Challenge the Status Quo